Tripawds is a user-supported community. Thank you for your support!
Today, Mosby had his first rehab appointment. I was incredibly impressed with the vet clinic and his rehab vet. It's a full service clinic, but the vets are also certified in orthopedic rehabilitation. They have an amazing facility with lots of equipment and a water treadmill. I think Mosby also fell in love with his vet, Dr. Johnson, and at one point almost crawled into her lap while she was working him up, stretching him, getting a gauge on where he was in pain, etc. Here's a picture of him after she finished the initial work-up — I don't think he realized he was at the vet!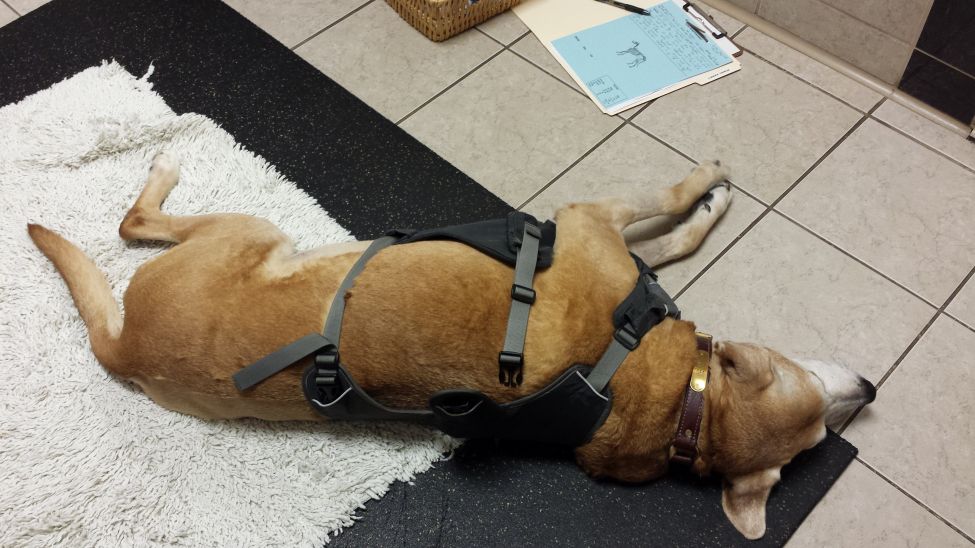 At first the vet couldn't get him to react at all when she was trying to determine where he was sore – he's that stoic. Finally and only after he relaxed a bit more she was able to find a lot of tightness and soreness in his back – not surprising. So she used a TENS unit to relax his muscles in his back, and he enjoyed that. He's tight in his shoulders, but fairly relaxed in his left hind leg, surprisingly. And very tight through his back.
Ultimately, the water treadmill is going to be great therapy for him, allowing him to get exercise without having the uneven strain on his body. He unfortunately couldn't do it today, because in the last 3 days he's developed an infected spot on his incision site. This vet feels it's a suture that is dissolving and got irritated. In a dog that isn't immune-compromised, it would probably not be a problem. In a dog doing chemo, it got infected. She consulted with his oncologist, and they decided to culture it and also switch to a broader antibiotic (he was already on one as a precautionary measure for the chemo). I'm hopeful that this will clear things up. We will keep it clean and keep him from messing with it.
They were able to do some good exercises with him. The vet was VERY impressed with his ability to sit for a treat (she didn't have to ask – such a good boy), because he's able to sit very squarely, which can be a challenge for rear amputees. He did cookie stretches, sit-to-stands, and hip rocking. They also helped him stretch out his back and relax using a big exercise ball. We have also been given instructions to do these exercises with him at home.
We are scheduled to return a week from today — fingers crossed his wound will have healed so he can do water treadmill! The other vet there does acupuncture, which can be a good palliative therapy for amputees, so we will probably be doing that, as well, at some point in the near future.
Onward and upward. It has been a stressful week as I've been monitoring and worrying about the wound, but I'm hopeful we can get that resolved. Mosby has to be at home tomorrow. We have a new soft cone, so we will try that on him so he doesn't mess with his wound. Over the weekend we are going to put up some gates in the hope that we can restrict him to a small area, so he can be outside of the crate but not get into trouble. We found the tallest gates we could get, but we are still going to have to rely on the fact that Mosby won't feel up to getting into trouble. Pre-amputation, he had no trouble jumping 6 foot fences, and I have a feeling he could manage a pretty good height even with the one back leg. Yikes. Monday I am off, so I will be with him and we'll also go in for our 10 day CBC; hopefully everything will look ok.