Tripawds is a user-supported community. Thank you for your support!
Here's a great picture of Mosby sunbathing this morning. He's been pretty perky and relaxed, and after not drinking for about 24 hours after coming home (which I guess is understandable after 24 hours of fluids) has started drinking some. He is eating, but is much more picky than he was before last week. He seems to only want the i/d diet he had at the vet, and you need a prescription for that! So I am trying to work that out. And we are going to try to convince him to start eating something else.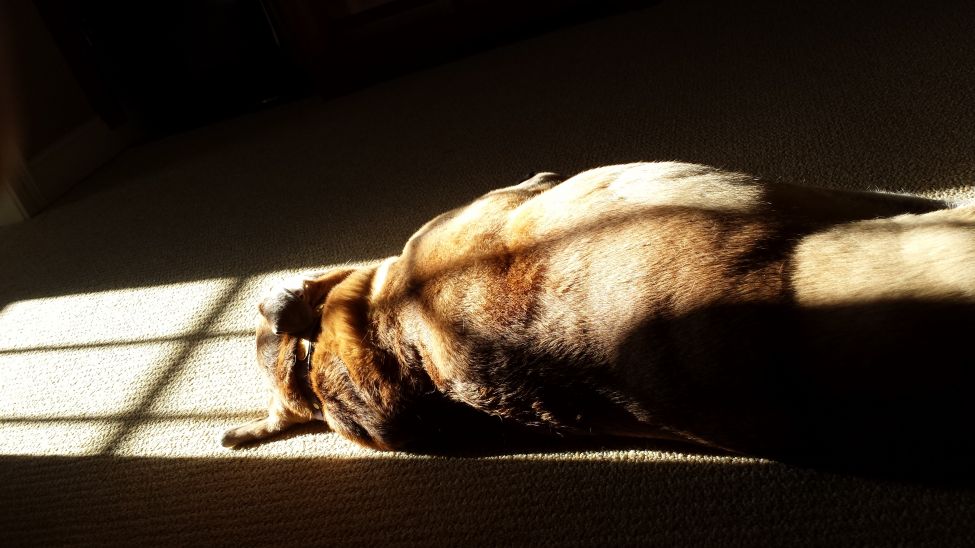 Yesterday I worked from home to stay with him, and during the afternoon I thought we needed to have an outing. His health has been so up-and-down, with the back pain, and the dehydration and lack of appetite, that we've been treating him with kid gloves. He also lost a lot of strength over the last week because he was so lethargic and depressed. So I decided we'd go for a walk around the property. I put him in his harness and bundled myself up, and down we went to the creek.
We have 5 acres and live on a creek, and most of our property is very hilly. We walked down the hill to the creek to look at the little area where the spring-fed stream runs into the creek (that's where the otters bring their mussels to eat them), followed some groundhog tunnels, walked to the old farm bridge across the stream, then followed the stream up the hill to the road. When we got to the part where it was a more significant uphill, I grabbed his harness handle and helped him along.
That walk tired him out, but really made a difference in his attitude. And even though I was scared I might have pushed him too hard yesterday, he seems even better today. So we will definitely be doing it again today and every day, building up to more – as long as he stays feeling good. I gave him lots of good back massages last night, and he is in good spirits.
Today we plan to stay pretty cozy (it's FREEZING out) and make a cassoulet for dinner. We need to make a grocery store run, which Mosby can accompany us on – he's much happier waiting for us in the car than he is waiting for us at home. One of the good things about winter is that we can bring him more places.
Chris just opened the pantry, and Mosby's head popped up – rascal. It's good to have the rascal back.