Tripawds is a user-supported community. Thank you for your support!
It has been crazy around here. For one, my job has been insanely busy. I am a corporate attorney and the last two months have billed (not worked, billed) over 200 hours, which means I've actually worked more than that. Add to that the general activity surrounding Mosby (which has been much smoother lately, thank goodness) and the probably crazy decision that we decided to sell our house this spring. Yes, we are gluttons for punishment. We've had a bit of a battle with our potential purchasers over this and that, and add to that the fact that the new house isn't even complete yet. And we're supposed to close on both houses a week from today.
At this point you may get an idea of my general state of mind.
As of today we think we are closer to a resolution on our house and more confident that we can move forward, but this next week is going to be a blur of stress, packing, moving, etc. In the middle of this, we are trying to keep Mosby calm and happy. But I will be so much happier when we are finally moved and settled and Mosby can get used to the new place (fingers crossed we get to the new place), where, among other things, there aren't stairs to the garage, so we won't have to pull the car around to load him into the car. Plus, there is a bedroom on the first floor if he doesn't want to go up the stairs.
Meanwhile, Mosby handled his 5th (of 6) chemos like a champ last week. This time they gave him a John Deere bandana.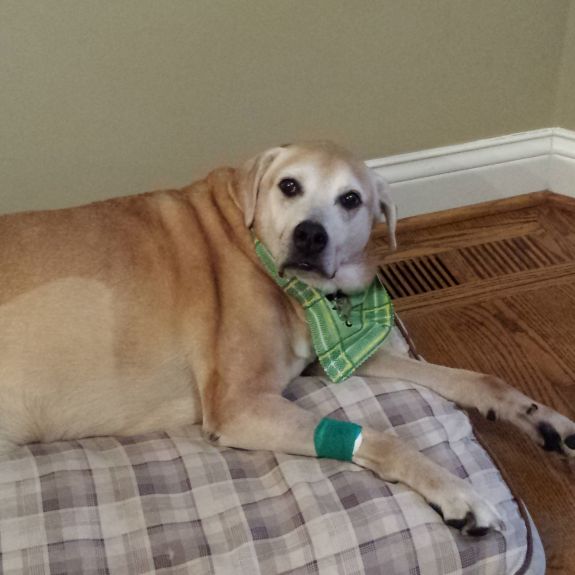 And yesterday we went to see the new (obviously not yet finished) house, and Mosby parked himself where he'll spend time in the winters.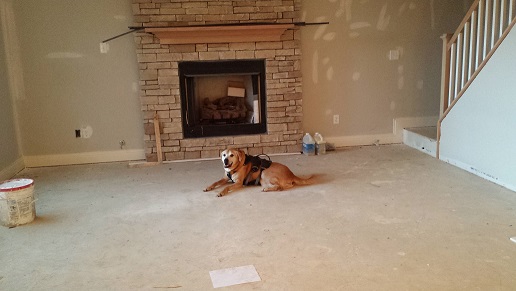 So … wish us all luck these next few weeks. We are going to need it on many levels.