Tripawds is a user-supported community. Thank you for your support!
Mosby was a bad boy today.
Mosby has a pretty bad habit of getting into trouble when left by himself in the house. People who know him think I'm lying when I tell them this, because he's so well behaved in general (he has perfect recall, both by voice and whistle), and super chill and laid back (professional napper). But when left in the house by himself his brain goes haywire. He's typically crated (this is after many breakouts from a VERY strong crate, which I finally reinforced with gorilla tape on everything but the front, which is secured by multiple carabiners … only after that did the breakouts stop), but we always wish we didn't have to confine him to such a small space.
So, being good parents, we ordered two 39″ gates and installed them today, so he now has the living room and sun room to wander around in (keeping him out of the kitchen, which is where he gets into the most trouble, and off all hardwood floors). As a test run, we left him while we went to the grocery store today. I worried the whole time that he'd try to jump the gates and hurt himself (or try to force his way through them), so we rushed through the shopping. I ran upstairs when we got home … no Mosby at the gate … no Mosby in his main bed. I went in through the gate and around the corner — there's Mosby with boxes of Ghiradelli chocolate, packaging torn everywhere.
Chocolate is his VERY FAVORITE bad thing to get into. I panicked, pulled out the hydrogen peroxide … roughly 10 min later we were back inside the house and Mosby's tummy was empty (I felt awful). Once we were able to dissect the packaging, we determined he had NOT been able to get into the main chocolate, but he had eaten a chocolate covered graham cracker in a separate package, so he did get into some chocolate.
Turns out, while we thought we'd been so thorough in checking the space, the Christmas presents for my husband's family – which we couldn't deliver, because our trip was cancelled due to Mosby's surgery – were in the corner. Among other things, the packages contained the chocolate and cookies, which Mosby had found. Face palm. I'm thankful he didn't get into the main chocolate (he tried, oh he tried), but I feel awful that we didn't realize it was there. I feel awful that I had to make him throw up.
I don't feel too bad, though, because last night we gave him is VERY FAVORITE (non-chocolate) thing: PASTA: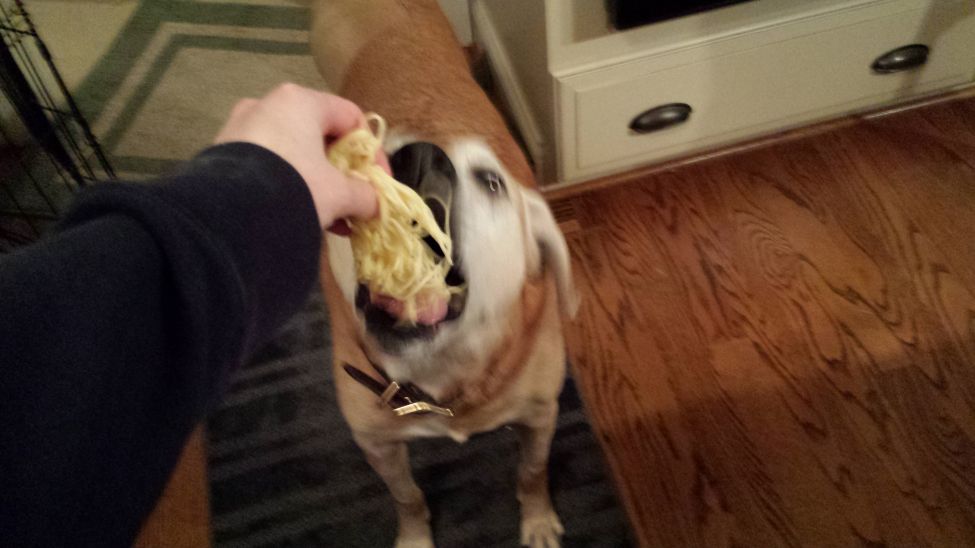 And we did, after all, install some very nice (and not cheap) gates for him.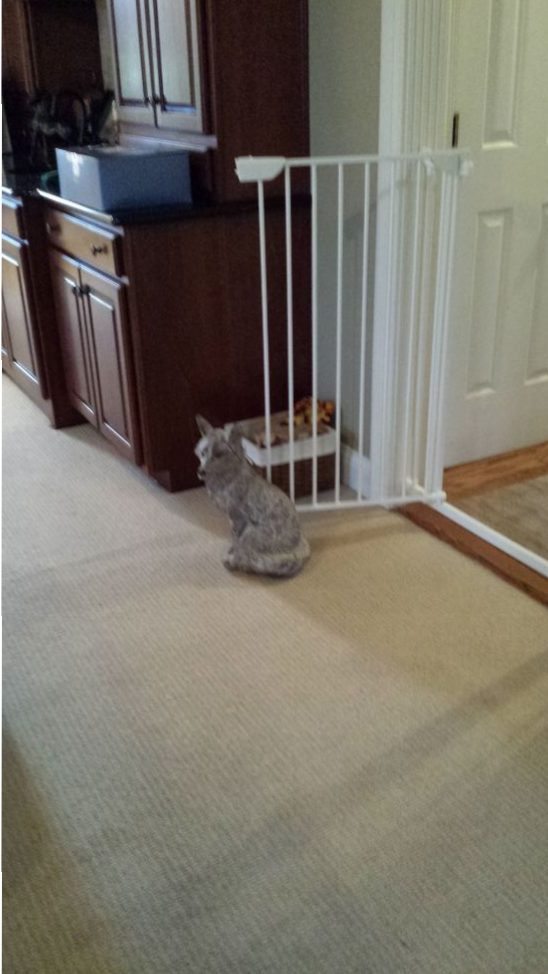 And also today we received our doggie DNA test, so that is set to be picked up on Tuesday. We know Mosby is part lab, but have always wondered what else he is. Probably something at least as mischievous. We are excited to find out.
So, Mosby keeps bringing the excitement. Whether it is worry about his wound (which is looking better) or worry about him staying by himself, there is always something to keep me occupied! Tonight we'll probably head to Bruster's after dinner for a doggie sundae … because as naughty as he might be, Mosby still deserves it. He's at least 98% Good Dog.